The 22nd UK Shelter Forum was on the 8th of June in London, co-hosted by CARE and Habitat for Humanity. We are grateful to Hogan Lovells for providing the venue.
Download the briefing note from UKSF22 here:
The theme of the forum was The Future of Shelter.
Two years after the World Humanitarian Summit, humanitarian reform remains high on the agenda. Multi-purpose cash offers opportunities and challenges to sectoral objectives, the 'humanitarian-development nexus' asks questions of who does what in shelter responses, the gaps between humanitarian needs and funding are ever-growing, and conflict and displacement are increasing. How will the shelter sector respond and adapt in the future? Will there be continued incremental change, or major disruption? How much does the shelter sector need to challenge itself to change? UKSF 22 will examine these questions, and what the future holds for the shelter sector and the people it seeks to help.
Agenda & submissions
The agenda was as follows:
There will be side events arranged on the 7th of June, including the Global Shelter Cluster Mid-Year Teleconference at CARE's offices in Vauxhall.
Publications
These new reports and publications provided food for thought at UKSF22: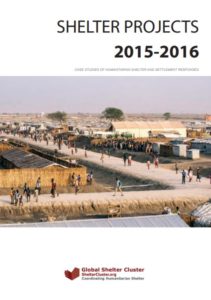 Presentations
Updates
1. Shelter Meeting 18 – Tom Corsellis, Shelter Centre
2. Promoting Safer Building – Bill Flinn, CARE International
3. Shelter Projects – Alberto Piccioli, IOM
Keynote address
Change in the humanitarian sector, Christina Bennett, Head of Programme, Humanitarian Policy Group, Overseas Development Institute
Breakout group presentations
A. Measuring success – Victoria Maynard
D. The Grand Bargain: Friend or Foe – Lizzie Babister
Project reports
1. A Safe Night's Rest – Mike Waugh, NRC
2. Cash for rent – Caroline Dewast, NRC
3. Cash for Weatherproofing Pilot Project – Alisar Bey, Save the Children
4. Case studies of post-disaster relocation in Tacloban – Shaye Palagi, University of Boulder Colorado & Habitat for Humanity
Themed talks
Shelter recovery
A1. Lessons from Typhoon Haiyan – Victoria Maynard on behalf of CARE & Habitat for Humanity
A2. Promoting Safer Building Protocol – David Dalgado, Shelter Cluster PSB Working Group
A3. Assessing knowledge in reconstruction – Eefje Hendriks, Technische Universiteit Eindhoven
A4. Post shelter cluster coordination – Loren Lockwood, HRRP Nepal
Building local capacities
B2. Area based approaches in urban areas – Seki Hirano, CRS
B3. Localisation through faith-based groups – Fiona Kelling
Linking research & practice
C1a. Healthy Housing for the Displaced – Francis Moran, Bath University, part 1
C1b. Healthy Housing for the Displaced – Francis Moran, Bath University, part 2
C2. Shelter research at the University of Edinburgh – Thomas Reynolds, University of Edinburgh
C3. Long Term Impacts of Shelter Programmes – Charles Parrack, Oxford Brookes University
Leaving no-one behind: Is shelter sufficiently inclusive?