The 22nd UK Shelter Forum will be on the 8th of June in London, co-hosted by CARE and Habitat for Humanity. We are grateful to Hogan Lovells for providing the venue.
The theme of the forum will be The Future of Shelter.
Two years after the World Humanitarian Summit, humanitarian reform remains high on the agenda. Multi-purpose cash offers opportunities and challenges to sectoral objectives, the 'humanitarian-development nexus' asks questions of who does what in shelter responses, the gaps between humanitarian needs and funding are ever-growing, and conflict and displacement are increasing. How will the shelter sector respond and adapt in the future? Will there be continued incremental change, or major disruption? How much does the shelter sector need to challenge itself to change? UKSF 22 will examine these questions, and what the future holds for the shelter sector and the people it seeks to help.
Agenda & submissions
The agenda is as follows (but is subject to change):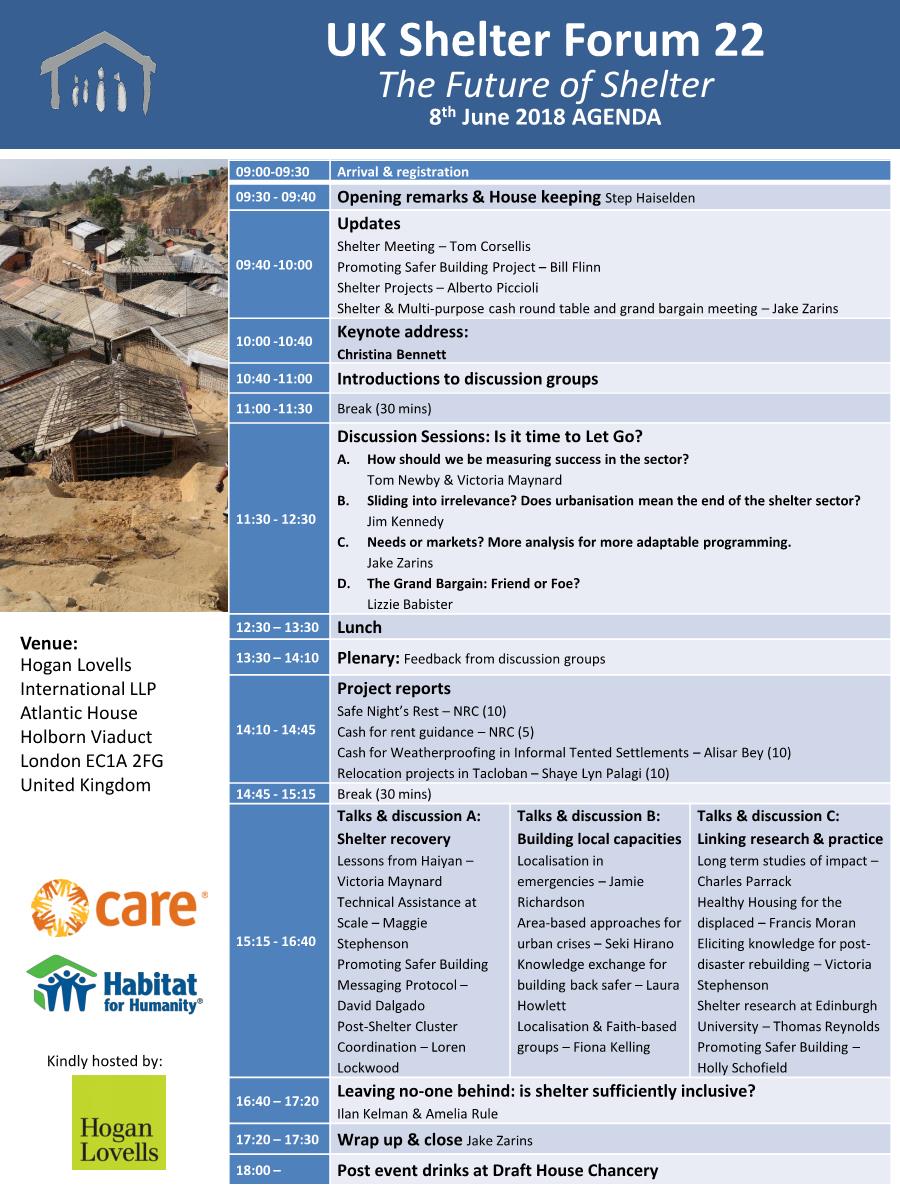 There will be side events arranged on the 7th of June, including the Global Shelter Cluster Mid-Year Teleconference at CARE's offices in Vauxhall.
Tickets
Tickets are free and are available from Eventbrite now:
https://www.eventbrite.co.uk/e/uk-shelter-forum-22-tickets-43086590151
Tickets are now sold out, but if you would like to join please join the waiting list and if any tickets are returned they will be issued to people on the waiting list.
Venue
UKSF 22 will be at Hogan Lovells in London:
Atlantic House
Holborn Viaduct
London EC1A 2FG
United Kingdom
The nearest stations are Chancery Lane and Farringdon.