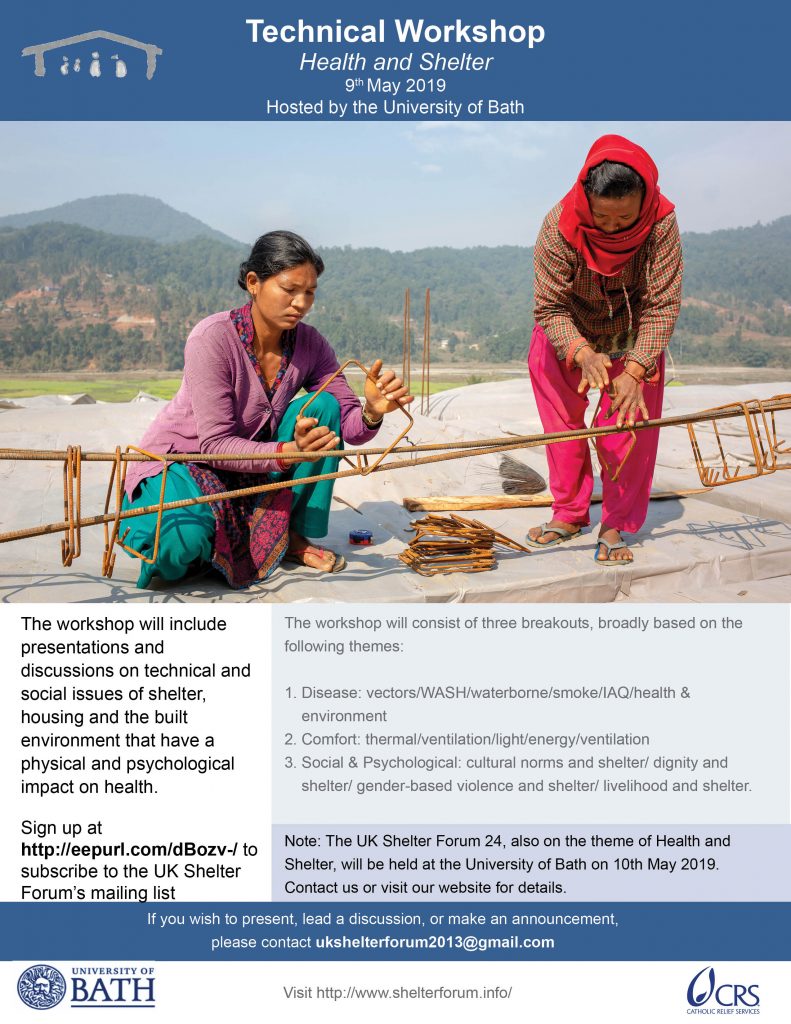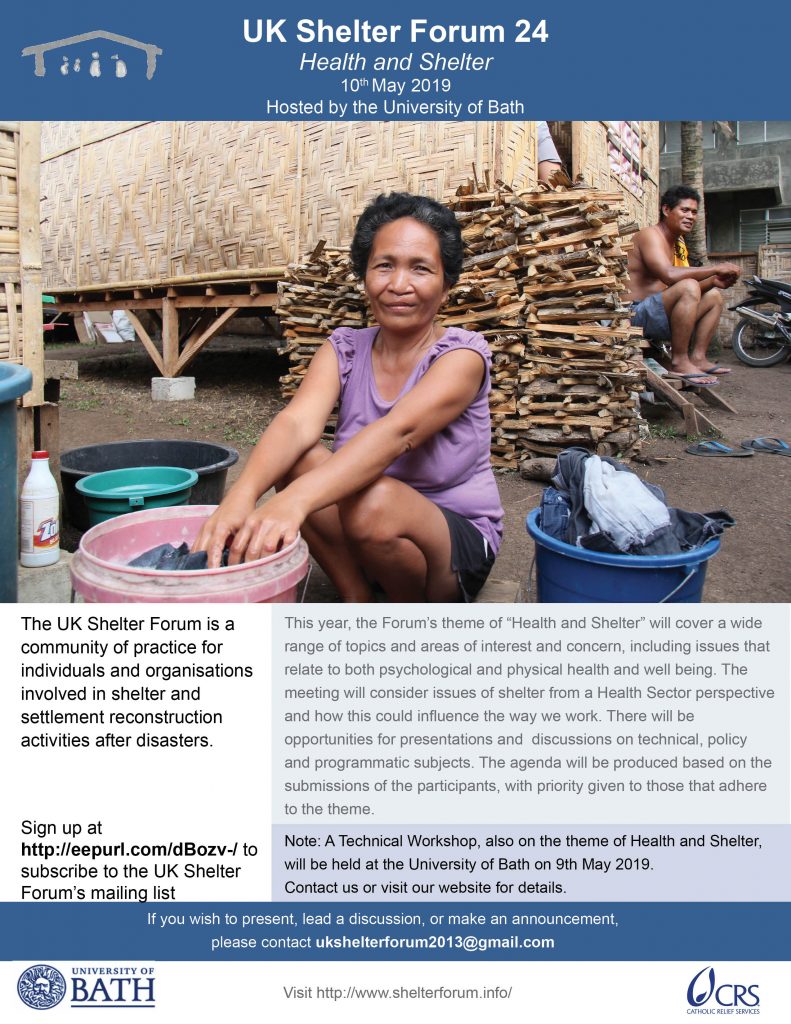 To get regular updates on UK Shelter Forum's news and events, subscribe to our mailing list here
The 20th UK Shelter Forum will be hosted by IOM, NRC and CENDEP and will take place in Oxford on 26th May 2017 with a focus on
"Shelter, Protection and Protracted crises"
Agenda to follow shortly.
Registration for the event is now open on Eventbrite.
As usual, the forum will have opportunities for short presentations about projects or initiatives in the shelter sector. There are spaces for 5 minute, 10 minute and 15 minute presentations. If you would like to propose something please send a short abstract to ukshelterforum2013@gmail.com by Monday 8th May, and state your preferred length. Selected proposals will be notified after this date.
When: Friday, 26 May 2017 from 09:00 to 17:30 (BST)
Where: Centre for Development and Emergency Practice, Oxford Brookes University, Headington Campus, Oxford OX3 0BP
To register please follow this Eventbrite link
https://www.eventbrite.co.uk/e/uk-shelter-forum-20-tickets-33493335468
As part of the 14th UK Shelter Forum in March 2014 Anshu Sharma, SaferWorld Communications, presented an update from the India Shelter in Emergencies Forum. You can download Anshu's presentation (which includes audio if you watch the slideshow) here.
In September 2013 members of the India Shelter in Emergencies Forum had been working on a joint assessment following the Uttarakhand flash flooding in northern India.  Following this assessment SaferWorld Communications undertook additional research to fill gaps identified in the assessment.  Key findings from this research were then documented in a report and exhibition later in the year.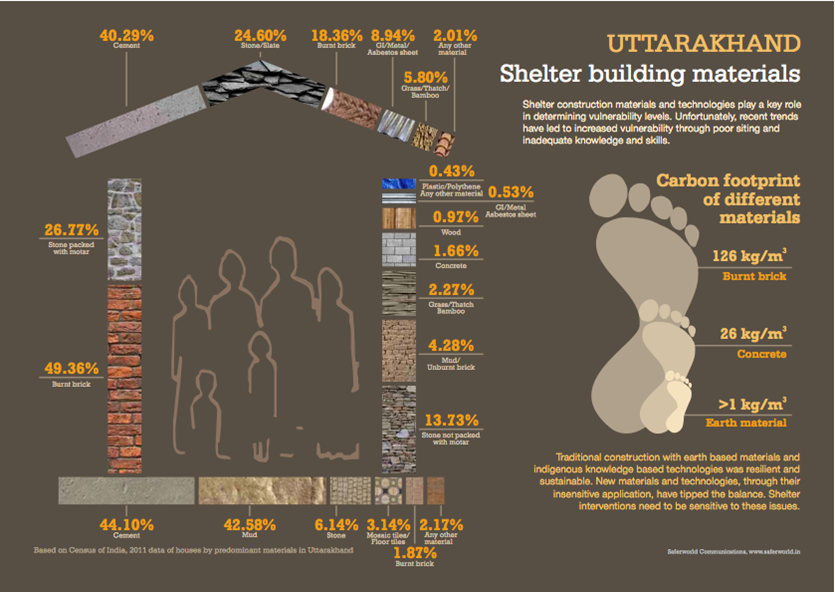 Anshu then described an innovative programme being undertaken following cyclone Phailin in October 2013.  With limited funding for humanitarian organisations (due to the low number of fatalities) SaferWorld Communications are currently focused on engaging with the large-scale government/World Bank permanent reconstruction programmes.  Through this they have developed a 'menu' of options (see below) from which families can make their own decisions regarding different components of their house.  This enables families to choose higher specifications on certain items – for example they might prefer a concrete roof – while managing the overall cost of their house and ensuring safety and sustainability.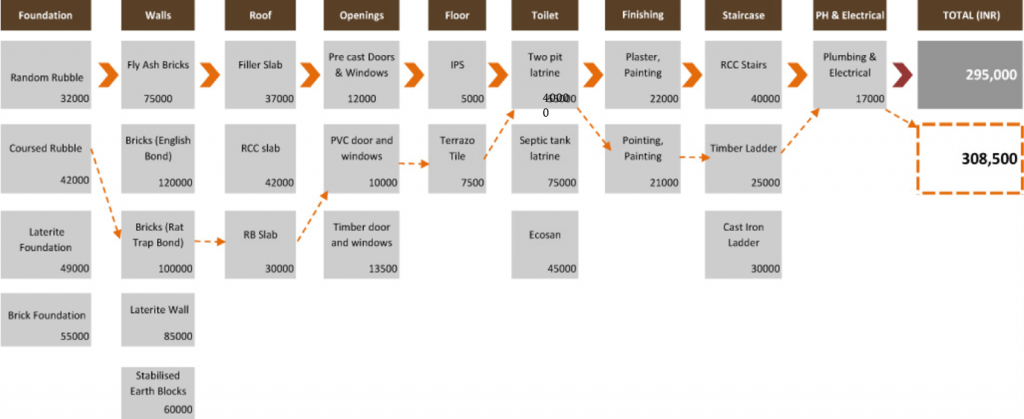 Upcoming activities of the India Shelter in Emergencies Forum include a pre-monsoon meeting hosted by Christian Aid in April 2014, engagement with architectural and planning schools, and brainstorming how to tackle key emerging challenges and trends.