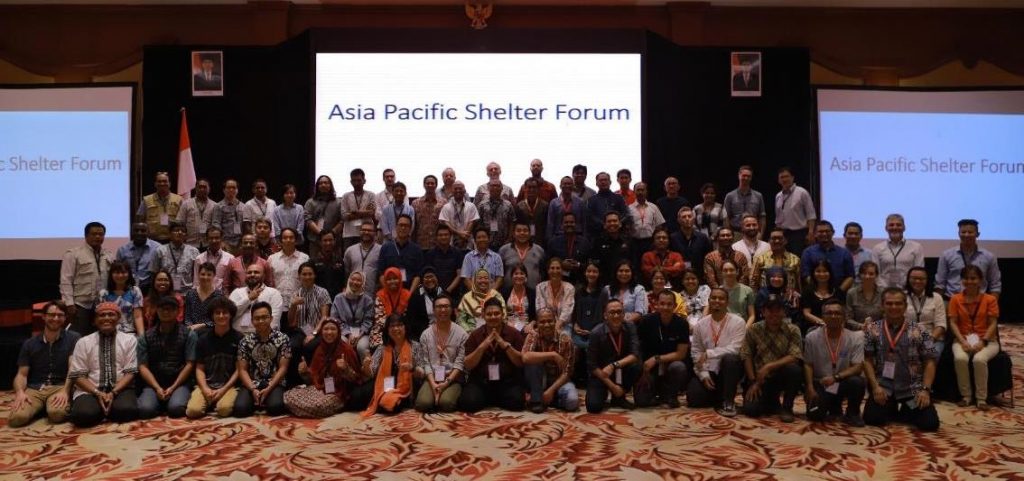 The Asia Pacific Shelter Week was composed of four primary events, namely, the inaugural National Indonesian Shelter and Settlements Workshop from 19 – 20 August, the Global Shelter Cluster – Asia Pacific Shelter Meeting on 21 August, followed by the annual Asia Pacific Shelter Practitioners Forum on 22 August, and completed with a field visit to disaster affected areas of Lombok on the 23 August.
In late August of 2019, the second Asia Pacific Regional Shelter workshops and forum, this year called "Shelter Week" was hosted in Lombok by Indonesia's Ministry of Social Affairs (Kemensos) as lead of the National Protection and Displacement Cluster under which the Shelter Sub-Cluster sits, with support from IFRC as lead of the Global Shelter Cluster in Natural disasters, and the Asia Pacific Shelter Forum.
The Shelter Week events were held at the Hotel Lombok Raya in Lombok's capital city of Mataram (Kota Mataram) on the Indonesian island of Lombok, in the Province of West Nusa Tenggara of which Mataram is the provincial capital. On behalf of the Indonesian Ministry of Social Affairs, the Global Shelter Cluster and the Asia Pacific Shelter Forum members, we thank all participants, facilitators and organisers who took part in this years' Indonesian Shelter Week.
CLICK HERE TO ACCESS QUICK UPDATE REPORT: https://bit.ly/3DfYhxD
CLICK HERE TO ACCESS WELCOME PACK: https://bit.ly/2Ylv9q1